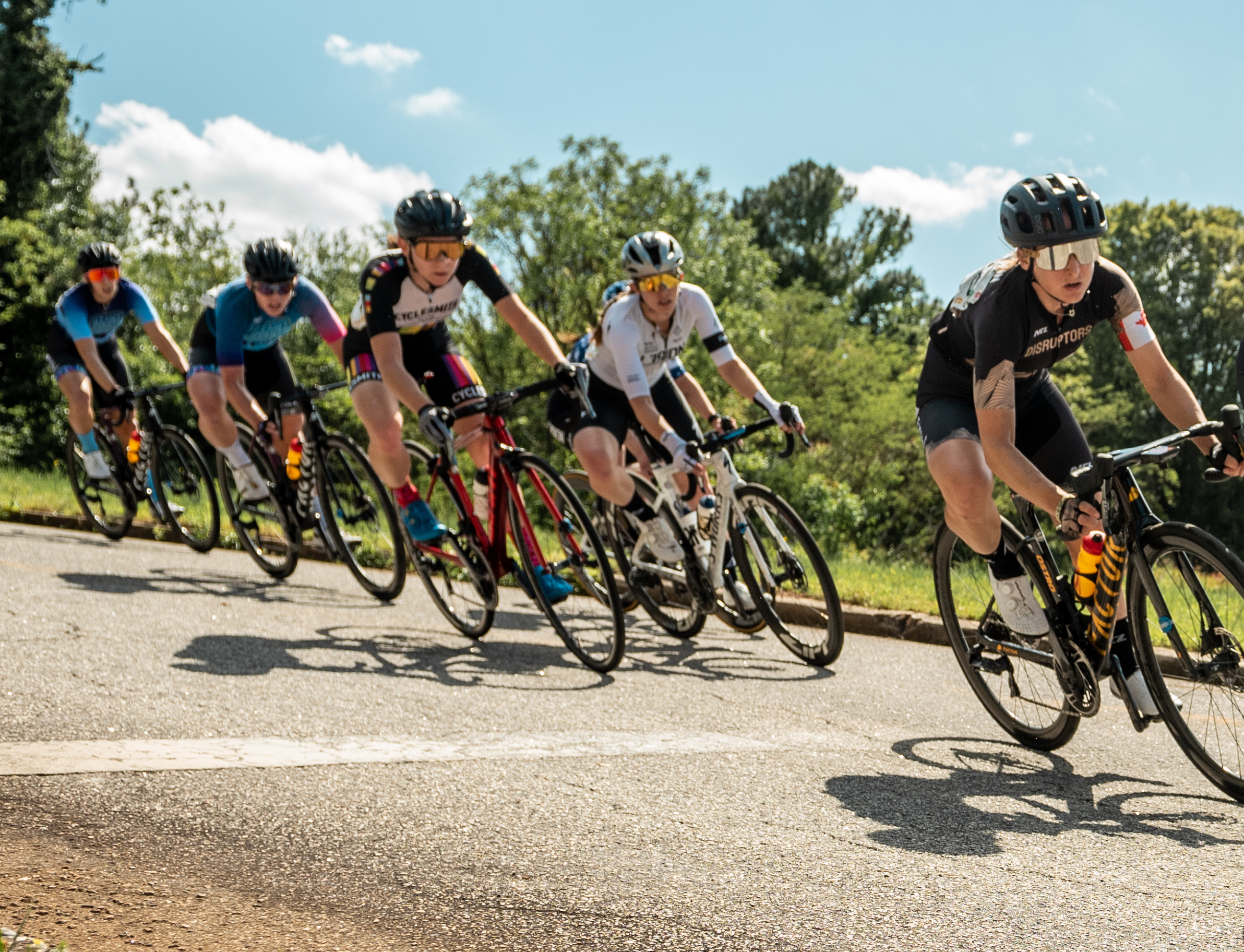 Leah Kirchmann (Denver Disruptors) and Evan McQuirk (ButcherBox Cycling p/b LOOK) won the overall titles at USA Speed Week, a series of seven criteriums contested in a span of nine days across the southeastern US. 
Kirchmann, who raced her last three years in the pro peloton on the WorldTour level, used consistency across "a very different kind of seven-day stage race" to secure the women's overall title, finishing sixth place or better including a victory at LaGrange Cycling Classic across the week-long parade of criteriums. Heather Fischer (DNA Pro Cycling) finished second in the series, 70 points behind Kirchmann, while Erica Zaveta (Denver Disruptors) was third, another 197 points back. 
On the second day of racing, Kirchmann came from a mid-race solo attack on the tricky course in downtown LaGrange, Georgia with the third turn making a sharp 100-degree left turn. With the field not committed to the chase, she then went into time trial mode and held off Matilda Raynolds by 28 seconds.
"Most consistently speedy here at USA Speed Week. It was a great week, winning the overall series title, with Erica Zaveta also finishing on the podium in third for Denver Disruptors," Kirchmann posted to her Instagram feed. "Lots of opportunities to learn and grow as a team over 7 days of racing as we worked on sharpening our crit skills. I'm already looking forward to our next events with the full squad." 
Disruptors teammate Zaveta was also consistent, landing on the podium twice with third-place finishes at Athens Twilight Criterium and Union City Crit. On the final weekend of races, she finished 10th at Hapeville and crashed out of the finale in College Park, so was not able to score additional points to overtake Fischer, who won races in Union City and College Park. 
"I used to go to school at least Lees McRae, and then I finished at Brevard College in Brevard. So I spent a lot of time doing Speed Week, and a lot of years getting so dropped," Zaveta told Cyclingnews about her roots with racing in the south. "It's cool to look back and be like, 'Oh, I was learning something'. Turns out all the sad, sad rides were worth it."
McQuirk eked out a four-point margin of victory ahead of Danny Summerhill (American Cycling Team (opens in new tab)), 1499 to 1495 points. Alfredo Rodriquez (Miami Nights) was 35 points out of the lead for third, well ahead of Brendan Rhim (American Cycling) in fourth and Frank Travieso (Miami Nights) in fifth.
"Huge" was how McQuirk described the overall title for his US domestic elite squad and said the experience had yet to fully sink in.
"We had a lot of confidence coming out of team camp about a month and a half ago and felt like we had a super special group capable of accomplishing some big goals that we sort forth for the season. This win is huge for our team," he told Cyclingnews.
"With Speedweek being our first race series as a team, our goal coming here was to have a strong showing at Athens, then continue to put ourselves in position to get as many wins and podiums as possible throughout the rest of the week. We were certainly able to accomplish that with third-place podiums at Peachtree Corners and Hapeville and also putting Eduardo [Cruz] and Andrew [Giniat] on the box at Spartanburg with strong second and third places."
The Oklahoma-based rider who won Hotter'N Hell 100 crit last year for United Cycling, was in sixth place in the standings after the first two events, Summerhill just two spots ahead. McQuirk then opened a bit of a gap on his rival with a third in Peachtree City and 10th place in Spartanburg, Summerhill finishing 13th and 36th, respectively. Summerhill then won Hapeville, but with McQuirk's third place, there weren't enough points to make up the difference with both riders on the podium. McQuirk finished on Summerhill's wheel to round out the top 20 at the College Park finale to keep his lead.
Speed Week also recognised the top team performances across the seven events. Miami Nights claimed the honour as the top women's team with DNA Pro Cycling in second. Denver Disruptors finished third just ahead of L39ION of Los Angeles, who fielded different lineups across the week but came away with four victories – Kendall Ryan winning Athens and Spartanburg as well as Samantha Schneider winning Peachtree City and Hapeville.
Miami Nights earned the top spot as the best overall team with ButcherBox Cycling p/b LOOK in second and American Cycling third.
Athens Twilight Criterium, now in its 43rd year, was the opening race for Speed Week. To be considered in the Speed Week overall standings and prize payouts, riders were not required to start all seven races but needed to register for the 'All Races Pass' for eligibility. 
A trio of races during Speed Week also comprised the fifth annual Spin the District series, based in the Georgia cities of College Park, Hapeville and Union City which are south of Atlanta and part of the ATL Airport District to market the communities. The new Union City Crit was the opening act for the mini-series and mid-week stop for Speed Week, with Hapefulle Crit on Saturday and College Park Crit on Sunday closing the full week of racing.